Apple and Blackberry Slump
This apple and blackberry slump is pretty quick and easy to make. The bonus is that it makes a great freezer meal too. I like to make a portion to eat now and a portion to place in the freezer for another day.
Once again, I created a process video on how to make my apple and blackberry slump which you can watch by clicking the link below:
You will notice a slight trend in my posts lately where I am mentioning whether I have found the meal or recipe is ok to freeze. Well if you have not figured it out, I was pregnant at the time and making lots of freezer meals for when the baby arrived. Well, baby arrived on the 24th August 2021 right in the middle of New Zealand being in alert level 4 lockdown due to the Covid-19 pandemic.
For those of you who are following me and noticed that the frequency of posts has slowed down, well its because I am looking after a newborn as well as juggling having the whole family home during lockdown. We are coping well, given the situation, but it has meant that I have had to neglect this blog and my youTube channel a little more than I would have liked to. However, I aim to upload  and check in with the blog and comments when I can; things are just going to me a less regular for a while until I find a new normal.
Details, Tips, Hints and Tricks
As always, where I can, I like to give you any tips and tricks I think would be useful to know if I were making this recipe for the first time or even making a slump for the first time. To begin with, it is good to know what a slump actually is. A slump is a like a pot pie, except rather than pastry on top, a sponge cake-like batter is spread over the top. The awesomeness of using a sponge top is that as the slump bakes in the oven, any juices that seep out of the fruity layer beneath gets soaked up into the sponge layer and just adds to the deliciousness. As there is no pastry to knead together, rest and roll out, a slump is a lot quicker to make than a traditional pie yet does not compromise on flavour.
First step in the recipe is to peel, cut and dice two apples. Now if you are in a hurry, leaving a little bit of the skin on the apples is not going to hurt the outcome of your slump. Just make sure you use a nice firm cooking apple as you do not want to end up with a super mushy pie filling that slops from serving dish to serving bowl. In the video link I use a variety of apple called Lemonade which is a cross between Royal Gala and Braeburn apple varieties. They have a yellow-green skin because it is a descendant of the Golden Delicious apple. If you do not have access to Lemonade apples, the tried and true Granny Smith apple works well in this recipe too.
Next I like to add a couple of spices, in this case, cinnamon and ground ginger, as well as a generous amount of sultanas. My mum used to always make apple turnovers or apple hand pies and add sultanas to her filling, so I guess out of habit I like to do the same. A little bit of nostalgia from childhood. Anyway, I just add the spices and sultanas straight into the saucepan with the dices apples.
Place the saucepan of diced apples, sultanas and spices onto the stove over a medium-low heat. Stirring continuously, heat the apples until they begin to let off a good amount of steam. As there is no water or liquid added to the mixture, this steam is purely from the juices leaching out of the apples.
At this point, quickly mix together a cornflour slurry of 1 tablespoon cornflour and about 6 tablespoons of cold water or enough cold water to make a slurry with a light gravy consistency. It is important that cold water is used as warm or hot water will cook the cornflour as you mix it and cause it to go lumpy where the aim is to get a smooth slurry.
Add the slurry to the saucepan and stir continuously to evenly coat the mixture and thicken any liquid released from the apples.
Once the cornflour slurry is stirred through and mixture (and saucepan) is covered in apple juice gravy. Remove from the heat and leave aside to cool.
Time to make the mixture for the sponge top of the slump. Add butter and sugar to a stand mixer.
Beat until light and fluffy. The mixture will lighten in colour to a pale yellow when it is well combined and is light and fluffy enough for this recipe. This is a step that can be done manually using a wooden spoon; it will just take quite a bit longer to achieve the same result, but not impossible!
Next, add the eggs and vanilla essence to the stand mixer or your mixing bowl and beat until smooth. Here, it is best to add the eggs individually, beating well after each addition. I did not do this on this occasion and you will see later that my mixture separated. This is not the desired outcome but it is not the end of the world (or the slump), if this happen to you too, it may be recoverable by rapidly whisking the mixture. If that does not work, do not worry, just carry on with the recipe like I did here and in my video and it will still give a yummy slump dessert.
Remove mixing bowl from stand mixer and add self raising flour. Use a silicon spatula or spoon to fold the flour into the mixture until just combined. The mixture is expected to be a little sticky so do not worry too much about that, just mix it until it is just combined; too much mixing will result in a sponge top that is a bit dry and stiff.
Add the frozen blackberries to the cooled apple mixture. It is quite important that apple mixture has cooled before adding the blackberries otherwise the heat will melt or defrost the blackberries causing red or purple streaks to stain the apples, it is quite nice to have clean looking apples in the fruity slump layer to contrast the vivid colour of the blackberries. I also like to mix the blackberries into the apples rather than having separate layers so everything is intermingled and each mouthful of slump contains a bit of everything. Of course, this is just how I like to make my fruity slump layer, feel free to do it your own way or whichever way you are comfortable.
Pour mixture into your oven proof dish(es). Because I am making one portion for now and one portion for the freezer, I am putting half the mixture into a 1 litre capacity glass oven proof dish the portion to be eaten straight away and the remaining half of the mixture into a 1 litre capacity foil freezer tray. You could of course just make one big slump by putting the mixture into an oven proof dish that has at least 2 litre capacity.
Spoon the sponge mixture over the top of each slump. again half the mixture on top of my freezer meal portion and the remaining half on top of my portion to be eaten straight away. As the sponge top mixture is quite sticky, i like to use s silicon spoontula to scoop and add to the top of my slumps.
Smooth the top of the slump sponge using the back of spoon or other rigid utensil. It is ok to leave a few gaps in the top as that will let some steam escape as it bakes in the oven.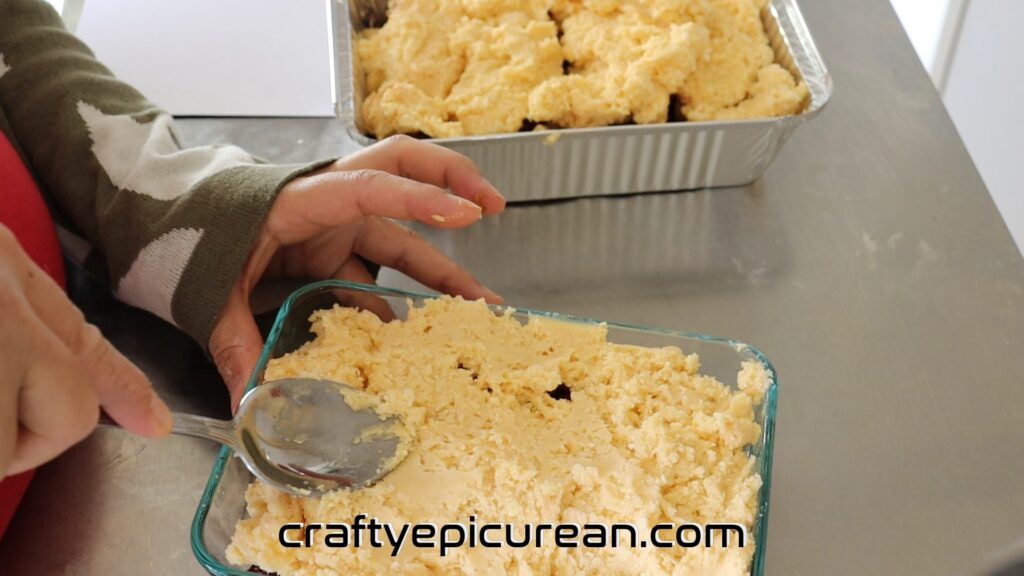 Bake in a preheated oven at 180 degrees celcius for 20 minutes or until the tops are nice and golden.
Apple and Blackberry Slump
Ingredients:
2 Apples
1/2 tsp Cinnamon
1/2 tsp Ground Ginger
1/4 cup Sultanas
1 tbsp Cornflour
180g Butter, Softened
80g Sugar
4 Eggs
1 tsp Vanilla Essence
300g Self-Raising Flour
350g Frozen Blackberries
Method:
Peel, core and dice the apples. Place into a medium sized saucepan.
Add cinnamon, ground ginger and sultanas to the saucepan.
Place over a medium-low heat and stir regularly until the apples start to steam.
Meanwhile, add cold water to the cornflour in a small bowl and mix into a light slurry.
Add to the apples in the saucepan.
Stir continuously until the cornflour is cooked through and a light sauce or gravy coats the apple mixture (and the saucepan).
Remove from the heat and leave to the side to cool.
Preheat oven to 180 degrees celcius.
To a stand mixer, add the butter and sugar.
Beat until light and fluffy.
Add eggs and vanilla essence, beat until smooth.
Using a rubber or silicon spatula, gently stir in self-raising flour until just combined.
Add blackberries to cooled apple mixture and stir to combine.
Add half mixture to a 1 litre oven proof dish and the remaining mixture to a 1 litre freezer proof tray or dish.
Spoon half the sponge mixture onto the top of each dish and smooth the top off using the back of a spoon.
Bake at 180 degrees celcius for 20 minutes or until the top is browned.
Enjoy!
---
---