Pea and Ham Soup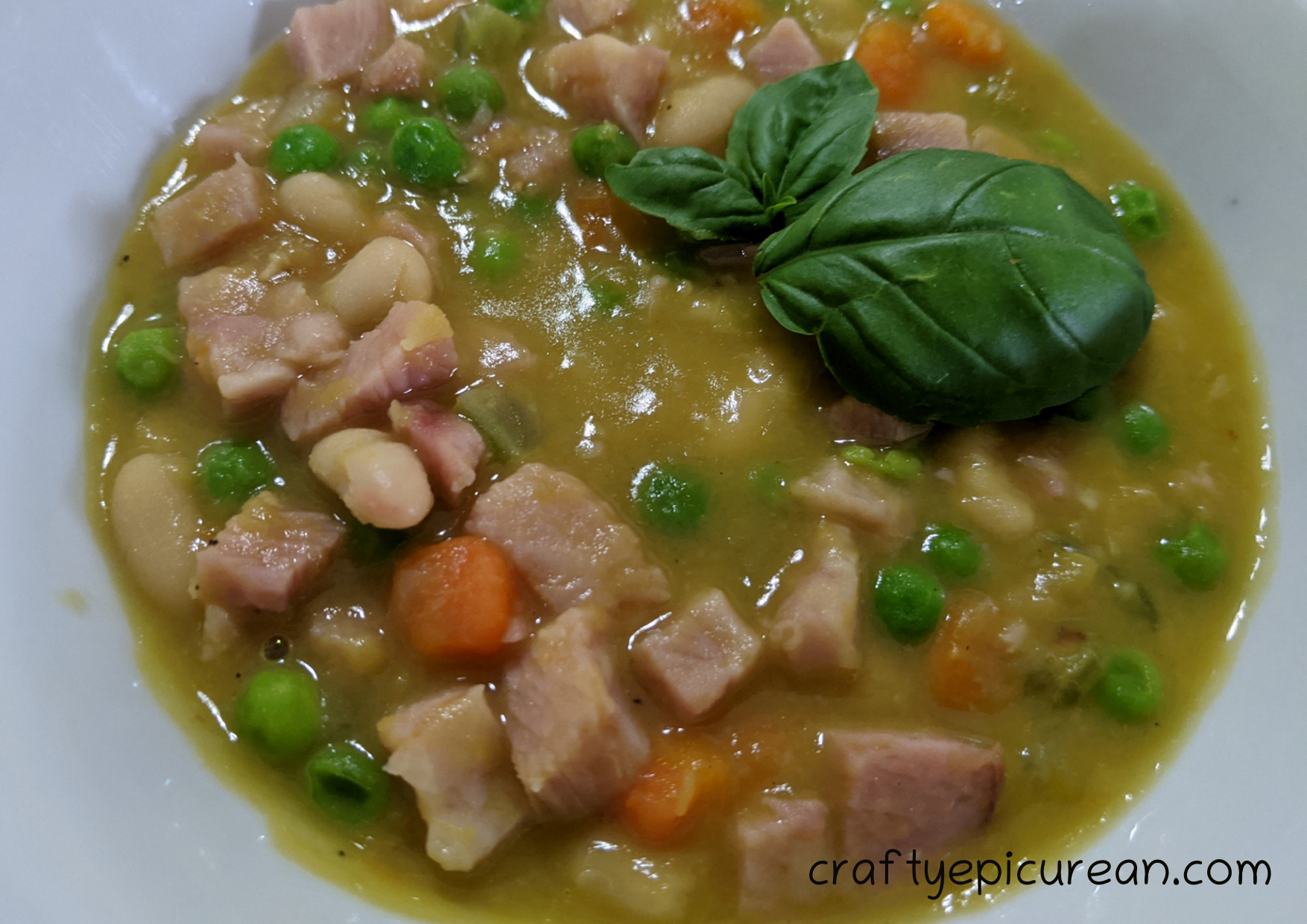 The inspiration for this split pea and ham soup recipe was to make use of a ham bone given to me which was leftover from the traditional christmas ham. My original thoughts for this recipe was to use green split peas and a ham bone so a more descriptive name for this soup would be split pea and ham bone soup. However, the guests I was cooking for brought along a slab of ham so split pea and ham soup was more appropriate but then I ended up adding frozen baby peas too,, although it is the split peas and the ham that forms the base of this soup and all its flavour; given the ingredients I decided just plain old pea and ham soup is the most appropriate name for this recipe despite how boring it sounds. Never mind, the flavour of this soup more than makes up for any plain and boring name I give it.
My guests had many dietary requirements or preferences which included: gluten free, soy free, dairy free, seafood allergy, lactose intolerance, rice free and deadly nightshade avoidance. Fortunately, I had all the ingredients for this recipe that just so happened to suffice all these requirements. The ham bone was definitely the hero of this recipe as it gave the soup all its flavour, whilst the split peas, cannelloni beans and ham gave the soup its bulk and heartiness to make a meal of it on its own. Although we decided to bulk it up more with the addition of a side of crusty buns and toasted bread.
Suggestions or alternatives
I simmer the ham hock or bone broth ingredients for 60 minutes but if you find the strength of the ham flavour is getting too intense for your taste buds, feel free to remove the ham bone or hock earlier for a lighter or more subtle flavoured soup. Alternatively, just add hot water to dilute the concentration of the intensity of ham flavour.
The split green peas tend to soften and then disintegrate as the soup bubble away and matures. This acts like a thickener for the soup giving the soup a hearty taste feel and lots of substance and texture. Thus, if a lighter soup is desired or you prefer something a less filling and clumpy then you could add less split peas. Alternatively, if you have already added all the split peas and you realise that the soup is becoming thicker or heartier than you prefer then just add some boiling water, which will act like a soup thinner.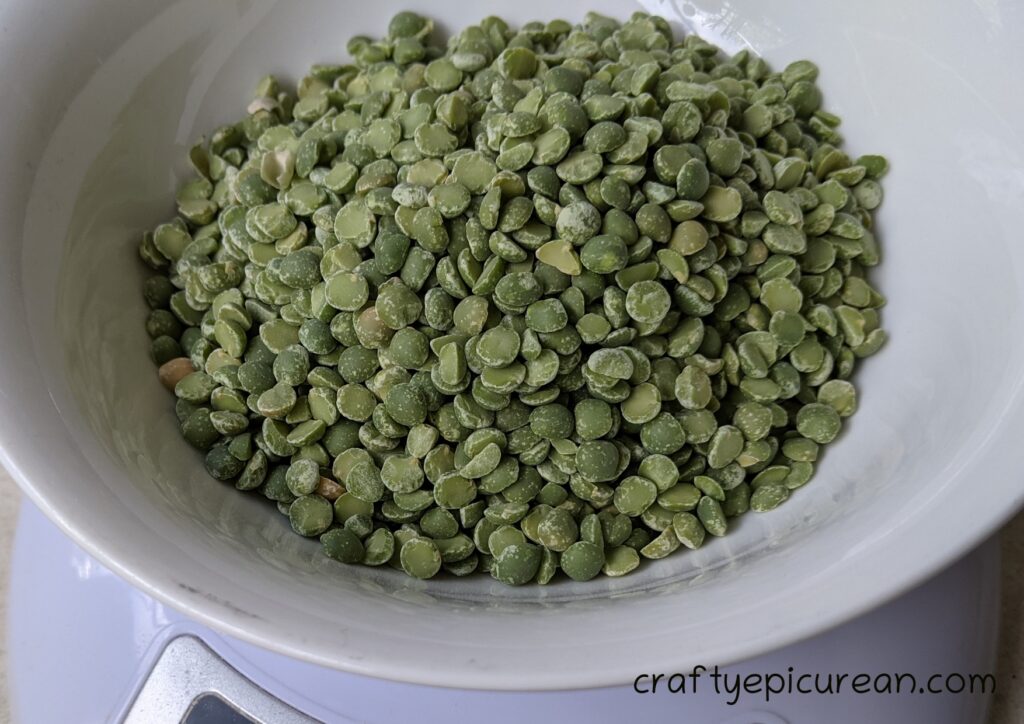 I decided to add frozen baby peas to give the soup added texture and a bit more freshness to each delectable spoonful of this split pea and ham soup. As substitutes, fresh peas or frozen garden peas would do nicely as well to achieve the same result.
Serving this soup with basil also give added freshness and pairs well with the richness of this soup to seemingly cut through the feel of heartiness. I also like to serve buttered (or margarine-ed) toasted sliced bread or crusty bread as a side to this soup to not only bulk the soup up and make a meal of it but also to have something to mop up every morsel of deliciousness that may remain in the bowl after spoonful gulps of yum. Of course, I had gluten free bread on hand to serve to my guests who required that to meet their dietary requirements.
Judging by the rather clean bottom of the pot at the end of the evening and the number of gratuitous comments I received from my family and guests, I believe this recipe is a crowd pleaser and is a bonus that it can be used to serve to meet various dietary requirements. The ham bone I used was leftover from a christmas ham and the ham my guests provided was from the same ham so it is ensured that it met my guests preferences and dietary requirements. Of course if it is not christmas time and you do not have access to leftover ham or a ham bone, a ham hock can be used instead and any chunk of ham or diced ham from your local delicatessen or supermarket are fine substitutes. Even if I did not have access to a ham hock or bone (for example my local store might not have any of those on supply) I would likely give chicken stock a go. Here, if I were to use store bought remade chicken stock I would just boil the ingredients until the green peas had disintegrated as per the recipe. Ideally though, I would probably make my own chicken tock or broth to use as I believe it is more nutritious, healthier and better tasting than store bought. Another way is to just replace the ham hock/bone with chicken bones or a chicken carcass and boil away or carry on as per the recipe. Now that I think about it, you could even use the carcass leftover from the christmas turkey if that is something that is available to you. I feel that soups can be really versatile and handy to use up whatever you have on hand to create a delicious meal that is quick and easy to make.
Ingredients:
2 onions, diced
3 cloves garlic, crushed
1 ham hock or ham bone
200g split green peas
2 carrots, diced
1/2 tsp ground black pepper
1 bay leaf
3 sticks celery, diced
1 (400g) can cannelloni beans, drained and rinsed
300g ham, diced
2 cups frozen baby peas
salt and pepper
basil to garnish
Method:
In a large stock pot or dutch oven, saute the garlic and onions until soft and clear.
Add 6 cups of water, ham hock or bone, split peas, carrots, black pepper, bay leaf and celery.
Bring to the boil then reduce heat until you have a rapid simmer.
Simmer for 60 minutes or until the stock is strong enough to your taste and the green peas are soft or disintegrating into the liquid and thickening the soup.
Remove the ham hock or bone and bay leaf.
Recover any meat off the ham hock or bone, dice up and return to the soup.
Add the frozen peas, cannelloni beans and ham to the soup.
Bring back to a rapid simmer.
Season with salt and pepper to taste.
Serve garnished with a couple of basil leaves and a side of crusty bread
Enjoy!
---
---