Chocolate Wassant
Chocolate Wassants have a tasty crust that conceals a soft sweet bread swirled with chocolate. Great as a snack as well as an after dinner treat. This recipe is similar to that found at My Little Space with a couple of small changes and added details. The recipe for the chocolate paste is again inspired by a recipe found at My Little Space with a slight variation; for a version that is made from cocoa powder try the recipe found here. This is a re-post from one of my earlier blogs (trying to keep everything in one blog these days!), my partner has mentioned more than once that I need to make chocolate wassants more often which motivated me to re-post and contemplate making these again in the near future – perhaps slightly differently this time…
When I first encountered chocolate wassants I thought they were just chocolate croissants but oh how wrong was I. Croissants are buttery and flakey with lots of air and puff, wassants are more bread like so although they also have a lovely softness, the texture has more of a bite and is more filling. My first thoughts after successfully producing a batch of chocolate wassants was to use different flavoured pastes, for example instead of the chocolate use Caramilk or raspberry and white chocolate. The possibilities are endless when it comes to what could be used to create the streaks in the wassant dough. I am thinking there will be some experimenting happening soon…no worries, I will post the combinations that worked well. Also, I am open to suggestions for variations in paste flavours so let me what you think would work well and I might just give it a go. (Bear in mind I live in small town New Zealand and exotic ingredients can be difficult to get my little crafty hands on, usually not impossible but nonetheless difficult sometimes).
When making the chocolate paste, make sure you melt the chocolate into the mixture on a very low heat. Ideally, use a double boiler to do this if you have one or if you don't have one create one using a bowl on top of boiling water, just be careful of the steam if you do this.
Alternatively, a microwave could be used to melt the chocolate first and then add to the rest of the mixture. When melting chocolate in the microwave, you must do so in no more than 20 second bursts with a good stir in between each burst of microwaving.
Use every ounce of patience you have in you to just wait for the chocolate paste mixture to thicken. The mixture is easy to burn or split by applying too much heat so be careful.
I poured the chocolate paste mixture into a plastic ziplock bag so I get a nice uniform square block of chocolate paste to use when rolling it into the wassant dough. However, you could used a square baking tray or baking tin. Just line it with non-stick baking paper before pouring on your mostly cooled chocolate paste mixture. Then spread it out with a spatula until it has a uniform thickness before refrigerating to set.
The recipe suggests that the folding and rolling should be done at least 3 times. In theory, the expectation would be that the more times you fold and roll the more layers you get anf the more puffier the resulting wassant will be. However, there are many factors in play. The expected layering effect will only work if enough dough is inbetween the layers of chocolate paste. Whilst rolling out the dough if you get chocolate paste on your rolling pin, then it is a bad sign that the layers have been compromised and the wassants will have less defined layers. Thus, be careful when folding and rolling if you are aiming to impress with lots of layers, after 3 layers it gets increasingly difficult to keep the integrity of each layer.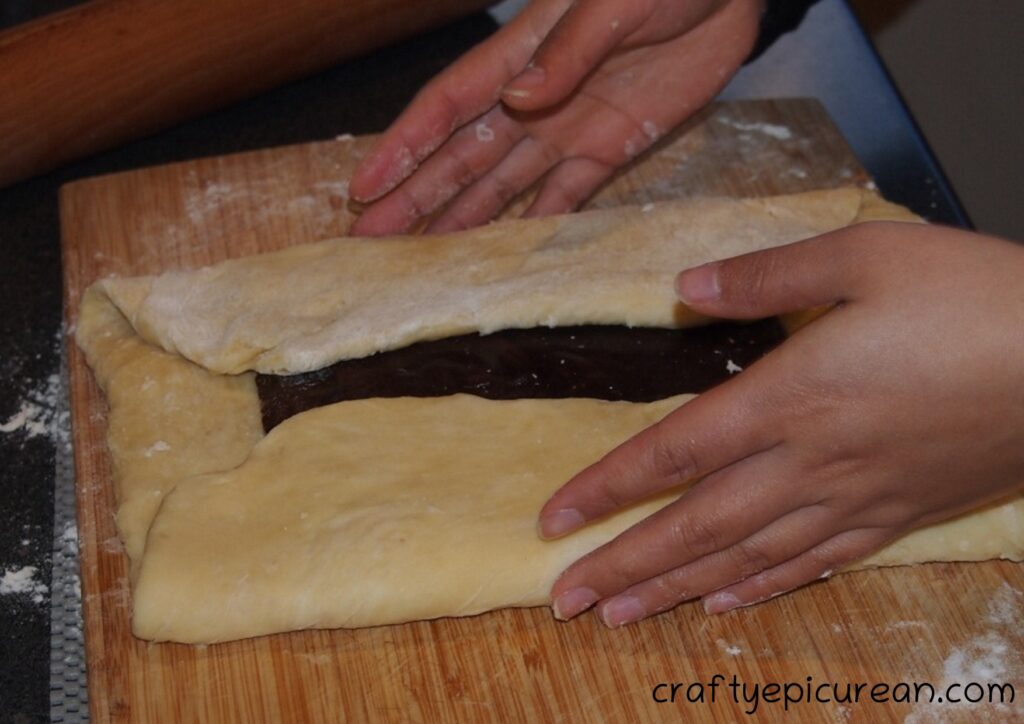 Recipe does say to egg wash the chocolate wassants before placing them into the oven to bake. As usual though, it is for purely aesthetic reasons, ie, to get a nice golden hue so skip that step if it is not really your cup of tea.
Ingredients:
Chocolate paste
2 egg whites
100g sugar
50g flour
10g corn flour
2 tbsp milk
150g chocolate, chopped
Starter Dough:
220g flour
1 tsp dried yeast
100ml luke-warm water
Main Dough:
220g flour
100g sugar
1 egg
60ml water
75g butter, melted
1 tsp salt
Method:
For chocolate paste:
Combine egg whites, sugar, flour, cornflour and milk in a saucepan and mix well.
Add the chocolate and heat the mixture on a very low heat until the chocolate has melted.
Heat mixture on a low-medium heat until thickened, stir continuously.
When mixture has a paste like consistency, remove from the heat and leave to cool.
Transfer to a plastic bag and refrigerate for at least an hour until set.
For the starter dough, sift flour into a bowl.
Dissolve the yeast in the luke-warm water and add to the flour.
Mix and knead until just combined.
Cover the dough and leave in a warm place for about an hour or until doubled in size.
For the main dough, sift the flour into a bowl.
Add the sugar, egg, water, butter and salt.
Break the risen starter dough into pieces and add it to the main dough.
Mix and knead the dough to form a soft dough.
Cover and leave in warm place for about an hour or until doubled in size.
On a floured surface, knead dough until smooth then roll out the dough to a size that is larger than your slab chocolate paste.
Place chocolate paste into the middle of the dough, then fold one third either side into the middle, then in half.
Roll out to about 20 x 30 cm then fold and roll out again.
Do this folding and rolling process at least one more time.
Then roll out to 30 x 40 cm rectangle and cut into triangles.
Roll up dough like swiss rolls and place on a baking tray lined with baking paper
Rest for 30-40 minutes
Brush rolls with egg wash and bake at 180 degrees celcius for 20 minutes or until brown.
Enjoy!
---
---